5,718
STUDENTS
Up 7% from FY18
456
COURSES
Total of 700 sections
43,360
STUDENT CREDIT HOURS
Up 11% from FY18
UAF offers 42 fully online asynchronous programs in addition to 11 distance and 69 hybrid programs.
NEW NAME
eLEARNING & DISTANCE EDUCATION
BECAME eCAMPUS IN OCTOBER 2018
LION
With collaborators across the UA system, eCampus instructional designer Kendell Newman Sadiik co-founded Alaska's Learning Inside Out Network (LION). Serving eCampus's mission to expand access to higher education across Alaska, the LION network connects learners in the university, prison and reentry communities.

150
HOURS AT FT. WAINWRIGHT & EIELSON AFB
I KNOW I CAN
'‹"I Know I Can" is a book about animals exploring college and careers. As part of a UAF contingent, eCampus volunteers, including Clara Noomah, pictured, read the story to 2nd graders at North Pole Elementary and then talked about what they want to be when they grow up.
Sean Holland (eCampus) along with Michelle Renfrew, Kim Davis and Sam Bishop (University Relations) won first place for the UAF Centennial Video, awarded by the Public Relations Society of America.

Karina Gonzales-Smith, eCampus faculty services coordinator, and Jessica Armstrong, eCampus recruitment coordinator, were chosen to be part of the 2018-19 UAF Academic Leadership Institute (ALI). ALI is a unique two-semester long professional development opportunity for a cohort of university employees who are interested in gaining a deeper understanding of current issues and the changing landscape in higher education.
The institute is led by Anupma Prakash, UAF Provost and Executive Vice Chancellor, with invited speakers including the UA President, a UA Board of Regent representative and community leaders.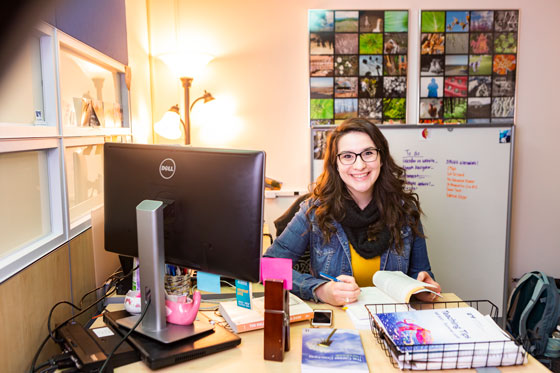 As part of eCampus's new eCoaching program, Faith Fleagle earned her Career Coach Certification from the leading online career coach certification program. She is now prepared to assist students with job searches, career trajectory planning, applying for jobs, interview skills and negotiating job offers.
Kim Runnion, the eCampus Registration Coordinator, was recognized for 25 years of service to UAF!